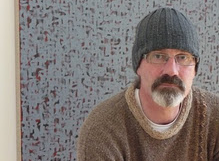 Denis Farrell was born in 1963 on the island of Ireland. After graduating from Limerick School of Art, Farrell went on a year long trip visiting the great art museums of continental Europe. Returning to his native island he quickly gained a reputation as a prolific painter, had exhibitions nationally and was represented by Taylor Galleries Dublin: one of Ireland's foremost contemporary art galleries.
In 1989 Farrell was awarded a Fulbright scholarship for independent research at The New York Studio School in Manhattan. This culminated in an exhibition of his work, which received great critical acclaim in the school's professional gallery. Following on from this success Farrell received a Full Scholarship to Yale University School of Art where he earned a Masters Degree in Fine Art in 1993. From 1994 until 1999 Farrell maintained studios in New Haven, Connecticut and in New York City while exhibiting extensively throughout the US—such as in the prestigious annual New Talent Exhibition at Alpha Gallery in Boston. In 1997 Farrell founded Bingo Hall, a contemporary Art Space, in Williamsburg Brooklyn, to exhibit the work of a diverse group of international artists not represented by the commercial gallery system, opened by Nan Annan, wife of Kofi Annan former Secretary General of the UN.
In 1999 Farrell returned to the secluded southern face of Iron Mountain in rural Ireland, with his wife Connie, screenwriter, to concentrate on his painting and begin a family. He worked for ten years completing many bodies of work there in his purpose built, state of the art studio. He had his first museum show at Limerick City Gallery of Art in 2003, curated by Mike Fitzpatrick, with catalog. In 2005 he was invited by the Irish Art Center in New York and this exhibition included a catalog essay by the award winning American critic Robert C. Morgan. He was invited to exhibit in The Dock Art Centre by curator Caoimhin Corrigan, commissioner for the Irish pavilion at The Venice Biennial, in 2009. In 2010 Farrell was allocated a wall at Visual Centre for Contemporary Art, Carlow during the Eigse Arts Festival 30th anniversary exhibition. Most recently, John and Pat Taylor curated an exhibition of selected small works to much acclaim at Taylor Galleries Dublin, and presently exhibiting paintings in this gallery as part of Dublin Contemporary 2011. Farrell now divides his time between Aubepierre-sur-Aube in France and Ireland.Farrell is lecturer at Galway-Mayo Institute of Technology since 2000, and Sligo Institute of Technology, and has responsibilities for the Access Degree programme in Fine Art Painting, at Galway and the full time Degree programme in Fine Art at Sligo.